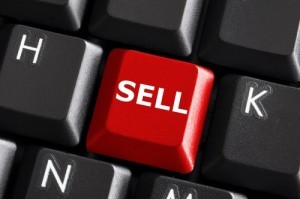 Four reasons to sell a stock
Buying a stock is the easy part. Do your research and determine if you like the prospects for a growing share price and buy some shares. The hard part really starts once you invest into the stock. That is because you now need to make a decision on when to sell it. That sounds a lot easier than it really is.
However, there are four good reasons that an investor may want to get out. Each of these may happen independently, or you may find that a couple of them start to happen at the same time. Either way there are good reasons to really look at why you hold that stock to determine if now is the time to sell.
Reason #1: Dividend Cut
If the stock you own is a dividend payer, then a good reason to sell is when the company has had to cut its dividend. Dividends are sacred to investors. One of the worst things a company can do to its investors is cut the dividend. This hits investors right in the pocket book as the income from the shares are reduce as well as the share price typically drifts lower.
Even worse though is what a dividend cut signals. When a company has to cut its dividend that means they are struggling financially and they no longer have the money to pay investors.
Reason #2: Hit a Stop Loss
As an investor in individual stocks it is good practice to set a limit to the amount of money you allow yourself to lose if the share price drops. This is called risk management. This habit will ensure you minimize your losses. A common stop loss is around seven to eight percent. This means that if the share price drops seven or eight percent from your purchase price you sell it. You can always buy it when it heads back up, but by cutting your losses quickly you don't allow those smaller losses to become huge losses.
Reason #3: Company Has a Huge Miss
The third reason to sell a stock is because the company has just encountered huge issues. Which may result in either revenue or earnings being dramatically reduce. When that happens share prices tend to head down as investors lose confidence in the management.
The key is that the miss must be substantial. A small loss on a quarterly report is not a reason to act hastily and get out right away. For example, the miss should be substantial in that you see a potential decrease in earnings of 25% or more. These misses are hard to recover from. You don't want to be stuck in a stock that can no longer execute on its financial guidance.
Reason #4: Rebalance Your Portfolio
The final reason to consider selling a stock in your portfolio is if it has appreciated in price so much that it now makes up over ten to twenty percent of your portfolio. Although this is a great problem to have as the stock has grown substantially, you are now at risk of having that stock impact your portfolio more than it should. If the company misses on earnings or some other management misstep, those gains can be lost quickly. This will then take your portfolio down with it. As an investor managing a portfolio, you want to make sure your portfolio is well balance and no one holding is controlling your performance too much. There is nothing wrong with taking profits off the table in order to put them into an asset class that brings your overall asset allocation back in line.
The Bottom Line
There are a number of reasons to sell a stock. All investors must consider selling stocks from time to time. Even if you are a die hard buy and hold investor there may be reasons to get out. The four reasons to sell listed above are a great place to start as they represent a risk management perspective. As an investor your role is to protect your capital. By selling stocks when these four instances happen then you are doing just that.
---
If you're looking for capital to start investing, always approach a bank or a licensed moneylender. We are the best licensed money lender in Singapore as we have the lowest interest rates you can find. Contact us or apply for a loan with us today!
Summary
Reviewer
Review Date
Reviewed Item
This is so true! Buying stocks is easy but selling is so hard!
Author Rating